AbanteCart Cloud Hosting
The best automated AbanteCart installer with the power of the cloud
AbanteCart hosting with cloud technology!
Let us be your AbanteCart cloud technology partner. What is AbanteCart?
AbanteCart is a free eCommerce application that is designed, built and supported by experienced enthusiasts that are passionate about their work and contribution to the project. This is not commercial project and there was no rush decisions or shortcuts in this project. We like what we do, and we strongly believe that AbanteCart one of the best and state of the art eCommerce platform available. AbanteCart operated based on donations, contributions and advertisers financial support.

Benefits:
Expandable shopping cart application with fast growing number of extensions. Easy extension installation and management with one step installation. This allows to add virtually any feature or service to AbanteCart in the future, that this is very important in current dynamically changing technology environment.
Virtually FTP Free eCommerce solution. No need to know code, complex programs or programming to manage, upgrade and install modules. Manage your eCommerce application 100% in the slick web based interface using any browser of your choice.
Fast performing and low computer resource consuming shopping cart application. Can be installed and run in virtually any shared or dedicated hosting.
Feature reach shopping cart application right out of the box. Standard features allow to set up complete eCommerce site with all the tools needed to sell the products online.
Large number of payment and shipping modules supported by default or with additional extensions.
Very secure solution with up to date industry security practices and inline with PCI compliance.
Flexible layout for pages allows to setup pages and navigation based on best usability practices and improve conversion.
Sophisticated and easy shopping cart control panel with "Search anything" feature for fast information location and edit. Help instructions embedded right into the control panel pages.
Flexible resource library to manage media files in the application.
Fast initial set up and migration from other shopping carts with easy data import from major shopping carts.
Developer benefits:
Well organized code based on MVC concept.
Layered core code that is not needed to be touched for the extension of features development.
Number of tools and classes to manage and debug application and workflow.
Good extension organization and ability to extend the application features and provided connection to multiple channels.
Backward compatibility in classes and functions, gives ability for less effort in the upgrades to new versions.
Flexible construction of layouts, forms and resources (media files)
Dataset concept to reduce need to create or extend SQL tables for some features.
Developers API documentation and open forum for discussions.
The Cloud Balance Deployment Advantage.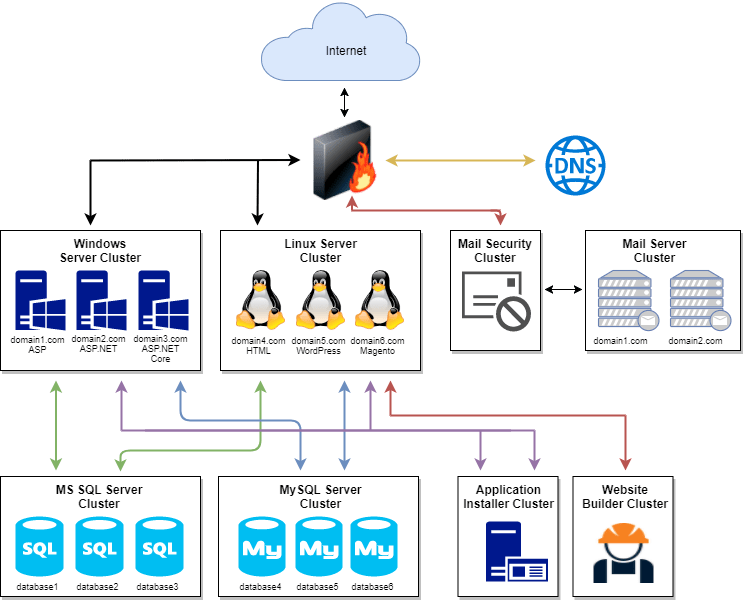 What is Cloud Balance Deployment?

Cloud Balance deployment places your web sites, e-mail, and databases on different servers within our cloud web hosting cluster. This is done behind the scenes using our simple cloud management interface. Maximizing account uptime by not provisioning your services/websites on a single server. Cloud balance deployment eliminates the single point of failure model of traditional web hosting. If you have any questions, please contact our sales department. We will be happy to answer any questions you may have.
How does cloud web hosting work?

Shared web hosting places your account services (mail, web, database, and DNS) on one server. Sectorlink's Cloud Web Hosting round robins your services within our cloud server cluster. With shared web hosting, any type of server interruption could cause your mail, web, database, and DNS to be down, leaving yourself or organization out of business. With Sectorlink's Cloud Web Hosting, this single point of failure is eliminated.
Website Isolation

With traditional web hosting, all of your sites reside in the same space provided to you. Not only in the same space but on the same server. What does this mean? If one website has a security issue, it has the potential to affect all of your websites. All of your sites within the cloud (including subdomains) are isolated from one another, keeping other sites safe and sound.


Have any questions?
Let one of our in house associates help you choose the right plan to fit your needs.

Chat Live! Get in touch