Nucleus CMS Cloud Hosting
The best automated Nucleus CMS installer with the power of the cloud
Nucleus CMS hosting with cloud technology!
Let us be your Nucleus CMS cloud technology partner. What is Nucleus CMS?
Nucleus CMS's features include:
Maintenance of one or more weblogs/news-sites: With Nucleus, you can set up one or more weblogs. If you want to, you can even show the contents of multiple weblogs on the same page.
Multiple Authors: Each blog has its own team of authors. Some authors will only have posting rights, others will be allowed to change settings for the blog as well.
Categories: Within a weblog, you can set up one or more categories. Each item you add in your weblog will be put in one of these categories.
Built-in commenting system: Nucleus provides a built-in Commenting System, so there's no need for external commentingtools. A karma-voting system is also provided.
Drafts and Future Posts: In a hurry? Need some more thinking? Mark an item as draft and continue working on it later. Or would you like an item to only appear starting from a certain date? Mark it as a future item.
Fully Tweakable: The way your Nucleus site looks is fully tweakable through skins and templates, and multiple CSS files. Next to that, the language used by the Nucleus admin area can easily be changed through language-files.
Plugins: Additional features can be programmed in so called plugins (see Nucleus plugins API) and be installed on Nucleus. This allows you to have the features you want, without having the Nucleus core to become bloated. The Nucleus plugin interface offers plugin authors lots of flexibility. For examples of how plugins can extend Nucleus funtionality, see further down in this document.
Bookmarklet and right-click blogging: So, you're visiting a site and want to write something about it on your weblog. No need to open the admin area, just open the bookmarklet or use the right-click context menu option and an add-item window will popup. Easy!
Archives and Search: Archives for your weblogs are automatically managed by Nucleus, and a search function is provided to look up old items. Nucleus also features highlighting search terms, both in articles, and in comments!
RSS and Atom Syndication: Syndication feeds are provided (as skins). Nucleus provides RSS and Atom feeds. Extra feed types (your favorite RSS flavor) can be added easily.
XML-RPC interface: Blogger, metaWeblog and MovableType APIs: Nucleus provides implementations of the Blogger, metaWeblog and MovableType APIs. This means that Nucleus can be used with tools like w.Bloggar, Ecto, and Zempt.
File/Image Upload: Want to include an image in an item? Open the media popup, choose a file to upload and off you go! No need to open an FTP program and upload the file manually.
IP-banlist: Some nasty people screwing up your comments? Ban their IP address or IP range or nickname from further comments/votes.
The Cloud Balance Deployment Advantage.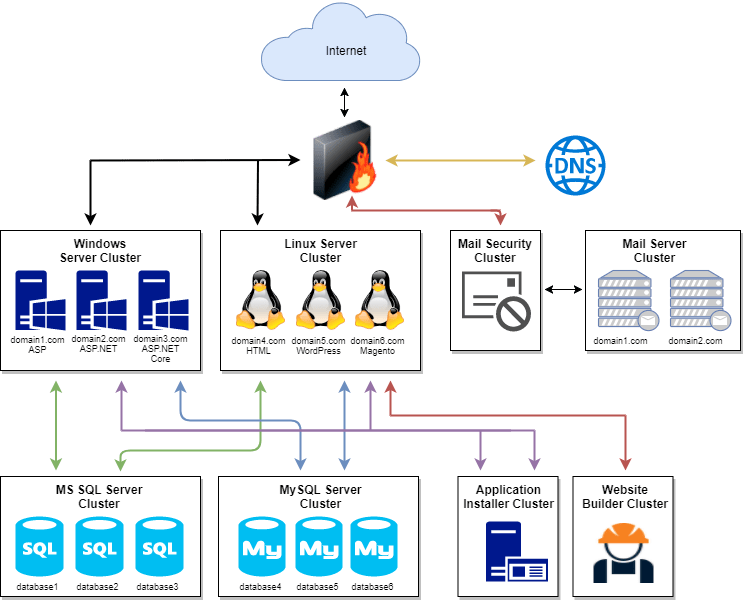 What is Cloud Balance Deployment?

Cloud Balance deployment places your web sites, e-mail, and databases on different servers within our cloud web hosting cluster. This is done behind the scenes using our simple cloud management interface. Maximizing account uptime by not provisioning your services/websites on a single server. Cloud balance deployment eliminates the single point of failure model of traditional web hosting. If you have any questions, please contact our sales department. We will be happy to answer any questions you may have.
How does cloud web hosting work?

Shared web hosting places your account services (mail, web, database, and DNS) on one server. Sectorlink's Cloud Web Hosting round robins your services within our cloud server cluster. With shared web hosting, any type of server interruption could cause your mail, web, database, and DNS to be down, leaving yourself or organization out of business. With Sectorlink's Cloud Web Hosting, this single point of failure is eliminated.
Website Isolation

With traditional web hosting, all of your sites reside in the same space provided to you. Not only in the same space but on the same server. What does this mean? If one website has a security issue, it has the potential to affect all of your websites. All of your sites within the cloud (including subdomains) are isolated from one another, keeping other sites safe and sound.


Have any questions?
Let one of our in house associates help you choose the right plan to fit your needs.

Chat Live! Get in touch