Open Classifieds Cloud Hosting
The best automated Open Classifieds installer with the power of the cloud
Open Classifieds hosting with cloud technology!
Let us be your Open Classifieds cloud technology partner. What is Open Classifieds?
Open Classifieds is the perfect software to start your own online business in few minutes. With Open Classifieds you can have your listing site, contacts page, car/auto sales, job board, second hand items, forum, or anything you want. You name the limit! Start today you own Craigslists, Ebay Classifieds, Olx or Gumtree clone for free!

Features:
MOBILE FRIENDLY: We offer amazing responsive themes and Android app that will make your site easily accessible from mobile devices.
DIFFERENT THEMES: Change a look and feel of your website and make it more beautiful in just few clicks. Browse our amazing themes in the market!
ADMIN PANEL: Managing your site was never that simple! With a super easy and lucid admin panel you can intuitively configure everything you need to.
MANY LANGUAGES: Change a language of your entire site by choosing one of the included language version. List of available translations is still expanding.
EASY INSTALLATION: Installation process is super easy and takes few minutes. In case you have any problems you can ask us for a support as well.
PAYPAL INTEGRATION: Earn money from your site and get your payments quickly through Paypal. Really useful for your online business!
SEO FRIENDLY: With our script it is easy to optimize your site for a search engine and improve your online visibility.
HIGHLY FLEXIBLE: Use our software for many purposes. Build your classifieds website, business directory or whatever you can imagine!
The Cloud Balance Deployment Advantage.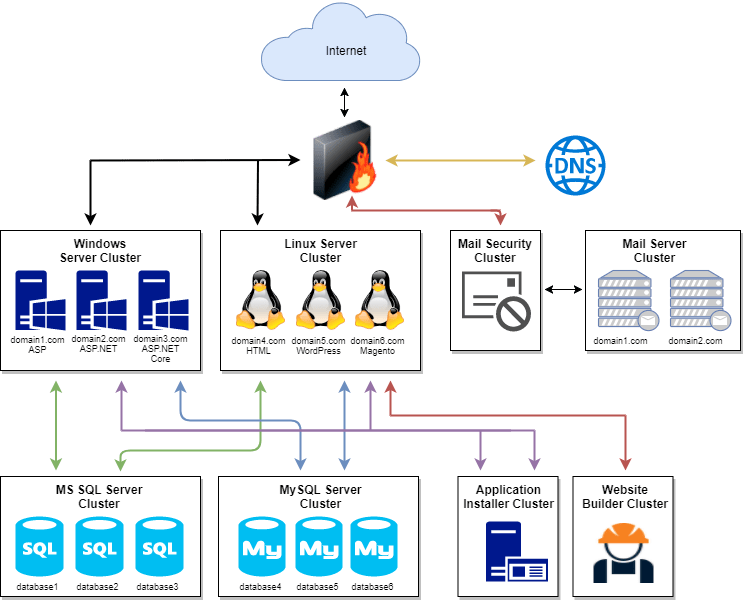 What is Cloud Balance Deployment?

Cloud Balance deployment places your web sites, e-mail, and databases on different servers within our cloud web hosting cluster. This is done behind the scenes using our simple cloud management interface. Maximizing account uptime by not provisioning your services/websites on a single server. Cloud balance deployment eliminates the single point of failure model of traditional web hosting. If you have any questions, please contact our sales department. We will be happy to answer any questions you may have.
How does cloud web hosting work?

Shared web hosting places your account services (mail, web, database, and DNS) on one server. Sectorlink's Cloud Web Hosting round robins your services within our cloud server cluster. With shared web hosting, any type of server interruption could cause your mail, web, database, and DNS to be down, leaving yourself or organization out of business. With Sectorlink's Cloud Web Hosting, this single point of failure is eliminated.
Website Isolation

With traditional web hosting, all of your sites reside in the same space provided to you. Not only in the same space but on the same server. What does this mean? If one website has a security issue, it has the potential to affect all of your websites. All of your sites within the cloud (including subdomains) are isolated from one another, keeping other sites safe and sound.


Have any questions?
Let one of our in house associates help you choose the right plan to fit your needs.

Chat Live! Get in touch