Serendipity Cloud Hosting
The best automated Serendipity installer with the power of the cloud
Serendipity hosting with cloud technology!
Let us be your Serendipity cloud technology partner. What is Serendipity?
Serendipity is a PHP-powered weblog application which provides website owners with an easy way to maintain an online diary, weblog or even a complete homepage. While the default package is designed for the casual blogger, Serendipity offers a flexible, expandable and easy-to-use framework with the power for professional applications.

Serendipity's basic features include something for everybody, from the personal blogger to the professional corporate web designer:
WYSIWYG and HTML editing
Built-in, powerful media database
Multiple authors, configurable permission/usergroup system
Threaded comments, nested categories, post to multiple categories
Online plugin and template repository for easy plug-and-play installation
Cool plugins: category-based sub-blogs, podcasting, RSS planet/aggregator, static pages
Robust spam blocking
Can be embedded into your existing web pages
Standards-compliant templating through Smarty, remote blogging via XML-RPC
BSD-style licensing
Shared installations can power multiple blogs from just one codebase
Native import from earlier blog applications (WordPress, Textpattern, Moveable Type, bblog)
The Cloud Balance Deployment Advantage.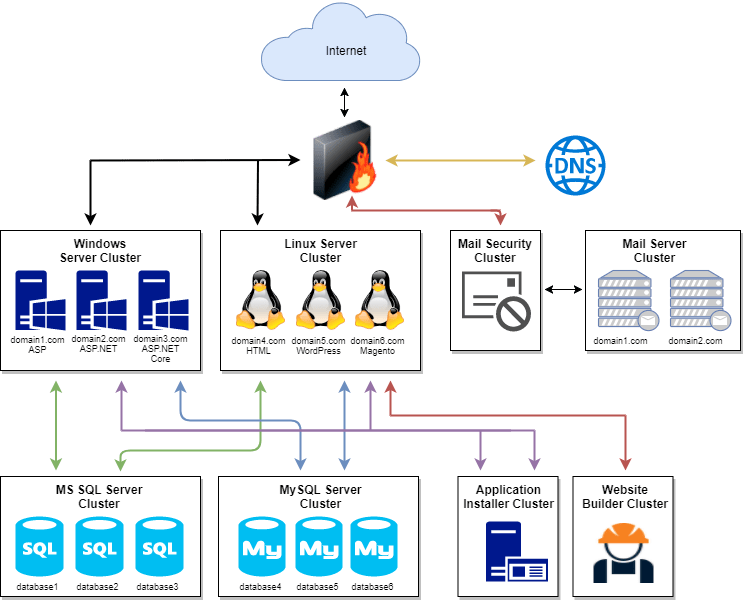 What is Cloud Balance Deployment?

Cloud Balance deployment places your web sites, e-mail, and databases on different servers within our cloud web hosting cluster. This is done behind the scenes using our simple cloud management interface. Maximizing account uptime by not provisioning your services/websites on a single server. Cloud balance deployment eliminates the single point of failure model of traditional web hosting. If you have any questions, please contact our sales department. We will be happy to answer any questions you may have.
How does cloud web hosting work?

Shared web hosting places your account services (mail, web, database, and DNS) on one server. Sectorlink's Cloud Web Hosting round robins your services within our cloud server cluster. With shared web hosting, any type of server interruption could cause your mail, web, database, and DNS to be down, leaving yourself or organization out of business. With Sectorlink's Cloud Web Hosting, this single point of failure is eliminated.
Website Isolation

With traditional web hosting, all of your sites reside in the same space provided to you. Not only in the same space but on the same server. What does this mean? If one website has a security issue, it has the potential to affect all of your websites. All of your sites within the cloud (including subdomains) are isolated from one another, keeping other sites safe and sound.


Have any questions?
Let one of our in house associates help you choose the right plan to fit your needs.

Chat Live! Get in touch