WebCalendar Cloud Hosting
The best automated WebCalendar installer with the power of the cloud
WebCalendar hosting with cloud technology!
Let us be your WebCalendar cloud technology partner. What is WebCalendar?
WebCalendar is a calendar application that can be configured as a single-user calendar, a multi-user calendar for groups of users, or as an event calendar viewable by visitors.

WebCalendar can be setup in a variety of ways, such as:
A schedule management system for a single person
A schedule management system for a group of people, allowing one or more assistants to manage the calendar of another user
An events schedule that anyone can view, allowing visitors to submit new events
A calendar server that can be viewed with iCalendar-compliant calendar applications like Mozilla Sunbird, Apple iCal or GNOME Evolution or RSS-enabled applications like Firefox, Thunderbird, RSSOwl, FeedDemon, or BlogExpress.
Features:
Multiple users and user management functionality.
View calendars by day, week, month or year.
View another user's calendar.
View one or more users' calendar via layers on top of your own calendar.
Repeating events including support for overriding or deleting (exceptions).
Configurable custom event fields.
User-configurable preferences for colors, 12/24 time format, Sun/Mon week start.
Checks for scheduling conflicts.
Email reminders for upcoming events and notifications for new/updated/deleted events.
Import and Export events to iCalendar, vCalendar or Palm.
Optional general access (no login required) to allow calendar to be viewed by people without a login (useful for event calendars).
Users can make their calendar available publicly to anyone with an iCalendar-compliant calendar program (such as Apple's iCal, Mozilla Calendar or Sunbird).
Publishing of free/busy schedules (part of the iCalendar standard).
RSS support that puts a user's calendar into RSS.
Subscribe to "remote" calendars (hosted elsewhere on the Internet) in either iCalendar or hCalendar formats.
The Cloud Balance Deployment Advantage.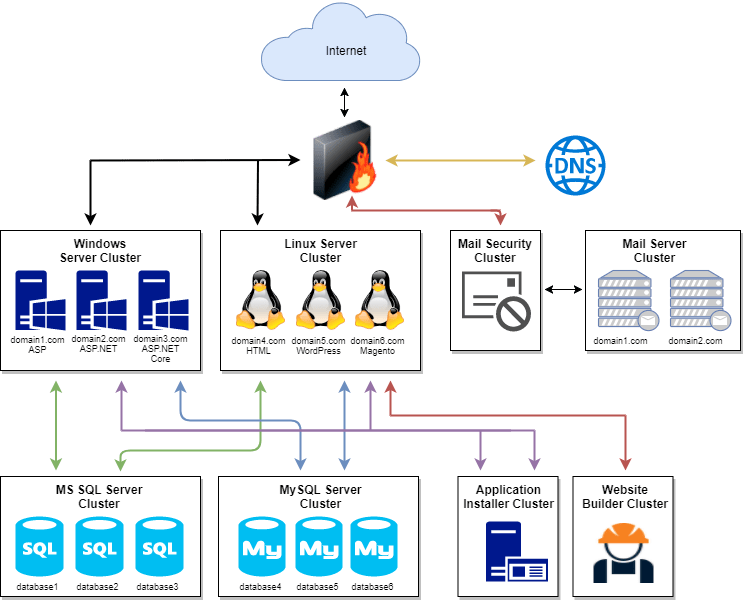 What is Cloud Balance Deployment?

Cloud Balance deployment places your web sites, e-mail, and databases on different servers within our cloud web hosting cluster. This is done behind the scenes using our simple cloud management interface. Maximizing account uptime by not provisioning your services/websites on a single server. Cloud balance deployment eliminates the single point of failure model of traditional web hosting. If you have any questions, please contact our sales department. We will be happy to answer any questions you may have.
How does cloud web hosting work?

Shared web hosting places your account services (mail, web, database, and DNS) on one server. Sectorlink's Cloud Web Hosting round robins your services within our cloud server cluster. With shared web hosting, any type of server interruption could cause your mail, web, database, and DNS to be down, leaving yourself or organization out of business. With Sectorlink's Cloud Web Hosting, this single point of failure is eliminated.
Website Isolation

With traditional web hosting, all of your sites reside in the same space provided to you. Not only in the same space but on the same server. What does this mean? If one website has a security issue, it has the potential to affect all of your websites. All of your sites within the cloud (including subdomains) are isolated from one another, keeping other sites safe and sound.


Have any questions?
Let one of our in house associates help you choose the right plan to fit your needs.

Chat Live! Get in touch