ClientExec Cloud Hosting
The best automated ClientExec installer with the power of the cloud
ClientExec hosting with cloud technology!
Let us be your ClientExec cloud technology partner. What is ClientExec?
Features:
Complete Help Desk: Have your staff manage support tickets painlessly and quickly. Prevent emails and support issues from getting lost. ClientExec's email management system helps you route, track and deliver messages.
Administration: ClientExec frees you to grow your business, by providing an easy way to setup your offerings and automate the daily tasks associated with administering your company. Cleverly organized to avoid bloat.
Billing Module: Whether you're invoicing for your work, or creating a recurring fee, ClientExec tracks all the related information. The invoice manager allows merging of billable items, accepts major credit cards, archives invoices, and even tracks credits.
Insightful Reports: Over 10 open sourced reports instantly give you a complete picture of your business. With just a few clicks of the mouse, everything is at your fingertips - revenue reports, support reviews, and more.
Intuitive Interface: ClientExec provides a separate interface for both your customers and staff members. The intuitive and user friendly client interface allows your customers to receive either support or quickly perform various billing and profile functions.
The Cloud Balance Deployment Advantage.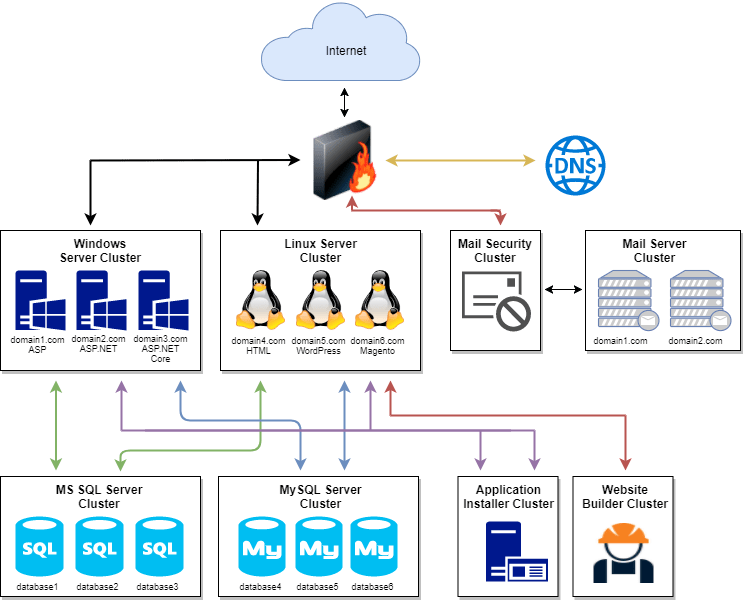 What is Cloud Balance Deployment?

Cloud Balance deployment places your web sites, e-mail, and databases on different servers within our cloud web hosting cluster. This is done behind the scenes using our simple cloud management interface. Maximizing account uptime by not provisioning your services/websites on a single server. Cloud balance deployment eliminates the single point of failure model of traditional web hosting. If you have any questions, please contact our sales department. We will be happy to answer any questions you may have.
How does cloud web hosting work?

Shared web hosting places your account services (mail, web, database, and DNS) on one server. Sectorlink's Cloud Web Hosting round robins your services within our cloud server cluster. With shared web hosting, any type of server interruption could cause your mail, web, database, and DNS to be down, leaving yourself or organization out of business. With Sectorlink's Cloud Web Hosting, this single point of failure is eliminated.
Website Isolation

With traditional web hosting, all of your sites reside in the same space provided to you. Not only in the same space but on the same server. What does this mean? If one website has a security issue, it has the potential to affect all of your websites. All of your sites within the cloud (including subdomains) are isolated from one another, keeping other sites safe and sound.


Have any questions?
Let one of our in house associates help you choose the right plan to fit your needs.

Chat Live! Get in touch