Moodle™ LMS Cloud Hosting
The best automated Moodle™ LMS installer with the power of the cloud
Moodle™ LMS hosting with cloud technology!
Let us be your Moodle™ LMS cloud technology partner. What is Moodle™ LMS?
Moodle is a course management application designed to help educators create effective online learning communities. Moodle can scale from a single-teacher site to a University with 200,000 students.

The focus of the Moodle project is always on giving educators the best tools to manage and promote learning, but there are many ways to use Moodle:
Moodle has features that allow it to scale to very large deployments and hundreds of thousands of students, yet it can also be used for a primary school or an education hobbyist.
Many institutions use it as their platform to conduct fully online courses, while some use it simply to augment face-to-face courses (known as blended learning).
Many of our users love to use the activity modules (such as forums, databases and wikis) to build richly collaborative communities of learning around their subject matter (in the social constructionist tradition), while others prefer to use Moodle as a way to deliver content to students (such as standard SCORM packages) and assess learning using assignments or quizzes.
The Cloud Balance Deployment Advantage.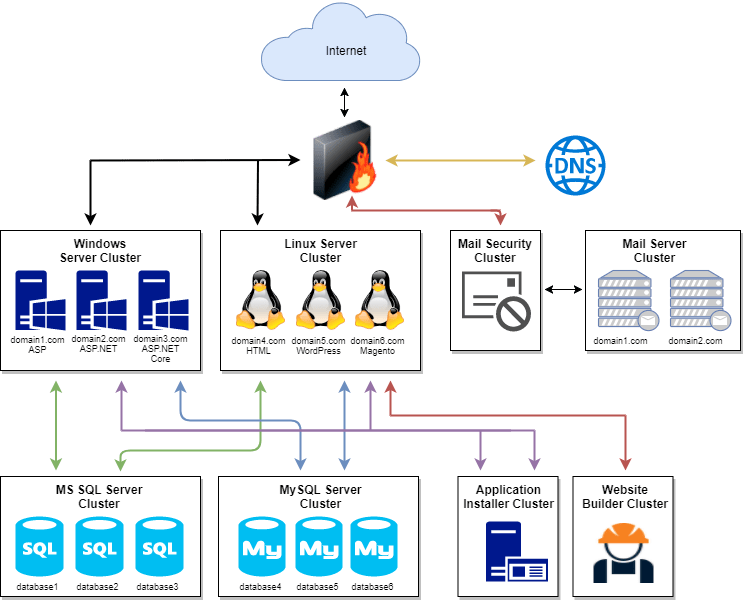 What is Cloud Balance Deployment?

Cloud Balance deployment places your web sites, e-mail, and databases on different servers within our cloud web hosting cluster. This is done behind the scenes using our simple cloud management interface. Maximizing account uptime by not provisioning your services/websites on a single server. Cloud balance deployment eliminates the single point of failure model of traditional web hosting. If you have any questions, please contact our sales department. We will be happy to answer any questions you may have.
How does cloud web hosting work?

Shared web hosting places your account services (mail, web, database, and DNS) on one server. Sectorlink's Cloud Web Hosting round robins your services within our cloud server cluster. With shared web hosting, any type of server interruption could cause your mail, web, database, and DNS to be down, leaving yourself or organization out of business. With Sectorlink's Cloud Web Hosting, this single point of failure is eliminated.
Website Isolation

With traditional web hosting, all of your sites reside in the same space provided to you. Not only in the same space but on the same server. What does this mean? If one website has a security issue, it has the potential to affect all of your websites. All of your sites within the cloud (including subdomains) are isolated from one another, keeping other sites safe and sound.


Have any questions?
Let one of our in house associates help you choose the right plan to fit your needs.

Chat Live! Get in touch