OrangeHRM Cloud Hosting
The best automated OrangeHRM installer with the power of the cloud
OrangeHRM hosting with cloud technology!
Let us be your OrangeHRM cloud technology partner. What is OrangeHRM?
OrangeHRM offers a complete suite of human capital management/human resource management tools. By providing modules for personnel information management, employee self service, leave, time and attendance, benefits and recruitment companies are able to manage the crucial organization asset - people. The combination of these modules into one application assures the perfect platform for re-engineering and aligning your HR processes along with the organizational goals.

Features:
Administration Module: The admin module is the central controller of the system where the HR Manager or other appointed personnel perform all system administration tasks. This includes defining organization structure' pay scale, maintaining project information and other information that serves as the backbone for the rest of the system. Security issues are taken care of through this module as well by defining user rights and permissions.
Personal Information Management: A complete employee information management system which acts as a central employee database. This enables HR administrators to utilize all employee information productively.
Leave Module: A comprehensive holiday management module' with extensive possibilities of defining leave types and more. It caters for all leave application & approval processes and is able to display information on leave entitlement' balance' history etc.. Thanks to the web-enabled and self-service concepts' it significantly streamlines all leave related procedures' eliminates paperwork and saves costs.
Time Module: This module automates timekeeping related processes. The offered functionality enhances the organization's performance by eliminating paperwork and manual processes associated with project timekeeping and attendance management. The sophisticated module helps to efficiently organize labor data' improve the workforce management and minimize errors in enforcement of company's attendance policies.
ESS Module: Employee self service is a powerful tool providing employees of the company with the ability to view relevant information such as personal information' updating personal information with web - enabled PC without having to hassle the HR staff. The functionality of this module spans through the entire system' making information available anywhere' anytime. Of course all information is subject to company defined security policy' where everyone can only view the information he / she is authorized to. Time and cost saving effects from this solution are tremendous.
Recruitment/Applicant Tracking Module: A comprehensive solution for the entire recruitment process. The module allows HR professionals to streamline the entire applicant tracking process effectively.
Performance Module: Another natural attachment to OrangeHRM. While simplifying the performance review process you can communicate the key performance indicators for each job title allowing the employees to understand and achieve your expectations.
The Cloud Balance Deployment Advantage.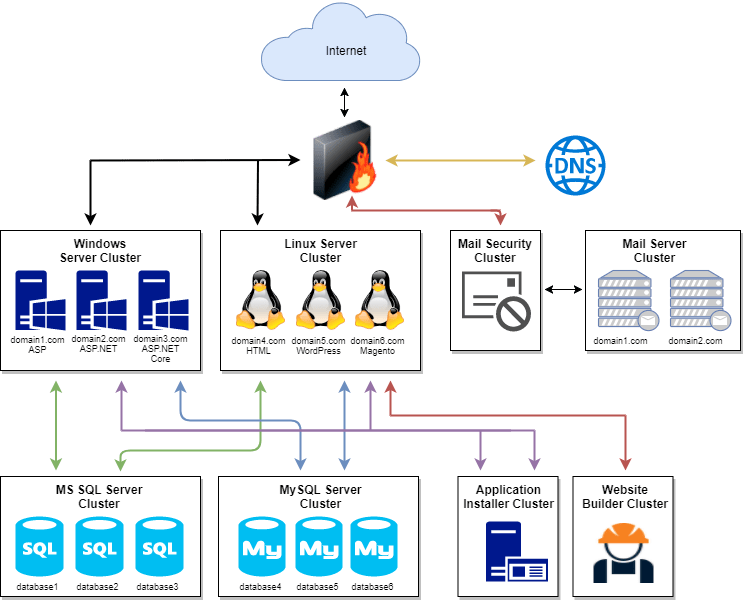 What is Cloud Balance Deployment?

Cloud Balance deployment places your web sites, e-mail, and databases on different servers within our cloud web hosting cluster. This is done behind the scenes using our simple cloud management interface. Maximizing account uptime by not provisioning your services/websites on a single server. Cloud balance deployment eliminates the single point of failure model of traditional web hosting. If you have any questions, please contact our sales department. We will be happy to answer any questions you may have.
How does cloud web hosting work?

Shared web hosting places your account services (mail, web, database, and DNS) on one server. Sectorlink's Cloud Web Hosting round robins your services within our cloud server cluster. With shared web hosting, any type of server interruption could cause your mail, web, database, and DNS to be down, leaving yourself or organization out of business. With Sectorlink's Cloud Web Hosting, this single point of failure is eliminated.
Website Isolation

With traditional web hosting, all of your sites reside in the same space provided to you. Not only in the same space but on the same server. What does this mean? If one website has a security issue, it has the potential to affect all of your websites. All of your sites within the cloud (including subdomains) are isolated from one another, keeping other sites safe and sound.


Have any questions?
Let one of our in house associates help you choose the right plan to fit your needs.

Chat Live! Get in touch