osTicket Cloud Hosting
The best automated osTicket installer with the power of the cloud
osTicket hosting with cloud technology!
Let us be your osTicket cloud technology partner. What is osTicket?
osTicket is a widely-used open source support ticket system. It seamlessly integrates inquiries created via email and web-based forms into a simple easy to use multiple user web interface. Easily manage, organize and archive all your support requests and responses in one place while providing your clients with accountability and responsiveness they deserve.

Features:
Web and Email Support: Tickets can be created via email, online forms or phone (created by staff). Flexible configuration and mapping.
Auto Response: Automatic reply that is sent out when a new ticket is opened or a message is received. Customizable mail templates.
Canned Replies: Predefined responses for frequently asked questions.
Internal Notes: Add internal notes to tickets for staff
Help Topics: Configurable help topics for web tickets. Route inquiries without exposing internal departments or priorities.
Alerts and Notices: Staff and clients are kept up to date with email alerts. Configurable and flexible settings.
Role-based Access: Control staff's access level based on groups and departments.
Assign and Transfer Tickets: Assign tickets to a staff and/or department.
No signup Required: No user account or registration required for users (ticket ID/email used for login).
Support History: All support requests and responses are archived.
The Cloud Balance Deployment Advantage.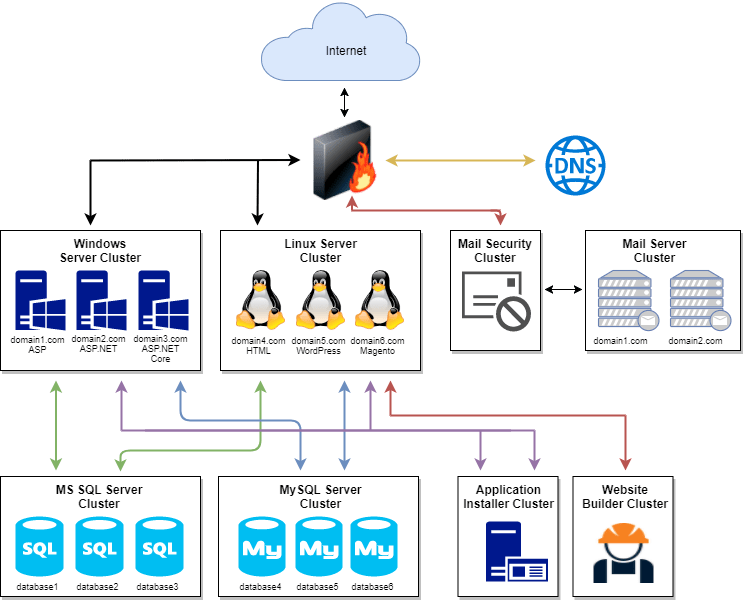 What is Cloud Balance Deployment?

Cloud Balance deployment places your web sites, e-mail, and databases on different servers within our cloud web hosting cluster. This is done behind the scenes using our simple cloud management interface. Maximizing account uptime by not provisioning your services/websites on a single server. Cloud balance deployment eliminates the single point of failure model of traditional web hosting. If you have any questions, please contact our sales department. We will be happy to answer any questions you may have.
How does cloud web hosting work?

Shared web hosting places your account services (mail, web, database, and DNS) on one server. Sectorlink's Cloud Web Hosting round robins your services within our cloud server cluster. With shared web hosting, any type of server interruption could cause your mail, web, database, and DNS to be down, leaving yourself or organization out of business. With Sectorlink's Cloud Web Hosting, this single point of failure is eliminated.
Website Isolation

With traditional web hosting, all of your sites reside in the same space provided to you. Not only in the same space but on the same server. What does this mean? If one website has a security issue, it has the potential to affect all of your websites. All of your sites within the cloud (including subdomains) are isolated from one another, keeping other sites safe and sound.


Have any questions?
Let one of our in house associates help you choose the right plan to fit your needs.

Chat Live! Get in touch