WordPress Cloud Hosting
The best automated WordPress installer with the power of the cloud
WordPress hosting with cloud technology!
Let us be your WordPress cloud technology partner. What is WordPress?
WordPress is a personal publishing platform and blogging application with a focus on aesthetics, web standards, and usability.

Features:
Additional pages allow you to manage non-blog content easily, so for example you could have a static "About Me" page.
A full theme system enables designing everything from the simplest blog to the most complicated webzine a piece of cake.
Changes made to templates and entries are reflected immediately on your site, with no need for regenerating static pages, and all generated HTML is fully compliant with W3C standards.
Trackback and Pingback standards fully supported.
Visitors can post comments on your blog entries, and commenting can be disabled on a per-post basis.
Spam protection eliminates comment spam from your blog.
User registration enables visitors to register and maintain profiles and leave authenticated comments on your blog, if enabled.
Password Protected Posts enables you to give passwords to individual posts to hide them from the public.
A full XML-RPC interface enables you to extend WordPress and use clients designed for other platforms like Zempt.
User groups enables up to 10 levels of users, with different levels having different (and configurable) privileges with regard to publishing, editing, options, and other users.
Bookmarklets make it easy to publish to your blog or add links to your blogroll with a minimum of effort.
Ping-O-Matic is supported, which means maximum exposure for your blog to search engines.
The Cloud Balance Deployment Advantage.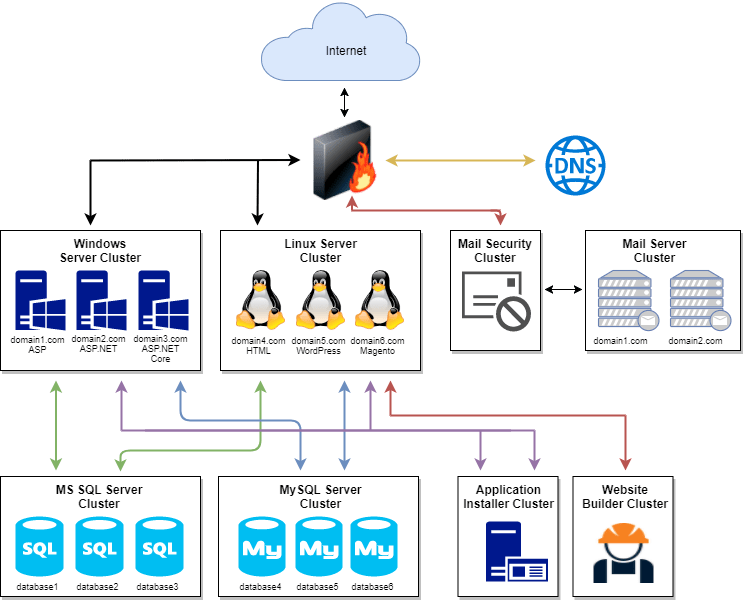 What is Cloud Balance Deployment?

Cloud Balance deployment places your web sites, e-mail, and databases on different servers within our cloud web hosting cluster. This is done behind the scenes using our simple cloud management interface. Maximizing account uptime by not provisioning your services/websites on a single server. Cloud balance deployment eliminates the single point of failure model of traditional web hosting. If you have any questions, please contact our sales department. We will be happy to answer any questions you may have.
How does cloud web hosting work?

Shared web hosting places your account services (mail, web, database, and DNS) on one server. Sectorlink's Cloud Web Hosting round robins your services within our cloud server cluster. With shared web hosting, any type of server interruption could cause your mail, web, database, and DNS to be down, leaving yourself or organization out of business. With Sectorlink's Cloud Web Hosting, this single point of failure is eliminated.
Website Isolation

With traditional web hosting, all of your sites reside in the same space provided to you. Not only in the same space but on the same server. What does this mean? If one website has a security issue, it has the potential to affect all of your websites. All of your sites within the cloud (including subdomains) are isolated from one another, keeping other sites safe and sound.


Have any questions?
Let one of our in house associates help you choose the right plan to fit your needs.

Chat Live! Get in touch