Geeklog Cloud Hosting
The best automated Geeklog installer with the power of the cloud
Geeklog hosting with cloud technology!
Let us be your Geeklog cloud technology partner. What is Geeklog?
Geeklog is a CMS and blog engine with support for comments, trackbacks, multiple syndication formats, spam protection, and all the other vital features of such a system. The core Geeklog distribution can easily be extended by the many community developed plugins and other add-ons to radically alter its functionality. Available plugins include forums, image galleries, and many more.

Blog/CMS Features:
Create, Schedule, Post and Edit articles in multiple topics
Save story drafts until they are ready for publishing.
Control over formatting used in articles (HTML whitelists)
Control over acceptable content (filtering of offensive language)
Embed images or other content in articles
Multiple Authors can post
Submissions from users
Support for comments, trackbacks and pingbacks
Export and import in all common syndication formats (RSS/RDF/Atom etc)
Spam detection and rejection
Robust calendar feature with support for personalized calendars.
Support for OAuth, OpenID and other remote authentication methods.
Extendible via numerous Open Source plugins.
Administration Features:
User accounts and access controls.
Robust *nix-like security model for all objects which can be extended for use in plugins
Access can be defined for each article, topic etc
All passwords are stored encrypted.
All admin access is logged.
All errors are logged.
Complete error logging on all forms and SQL calls.
Developer Features:
Plugin support with API for developers.
A fully configurable block system, with php-in-block support.
Well organized codebase, use of PHP's Object-Oriented features.
Thin database abstraction layer allowing Geeklog to be ported to DBMS's other than the defaults (MySQL and MSSQL supported directly).
The Cloud Balance Deployment Advantage.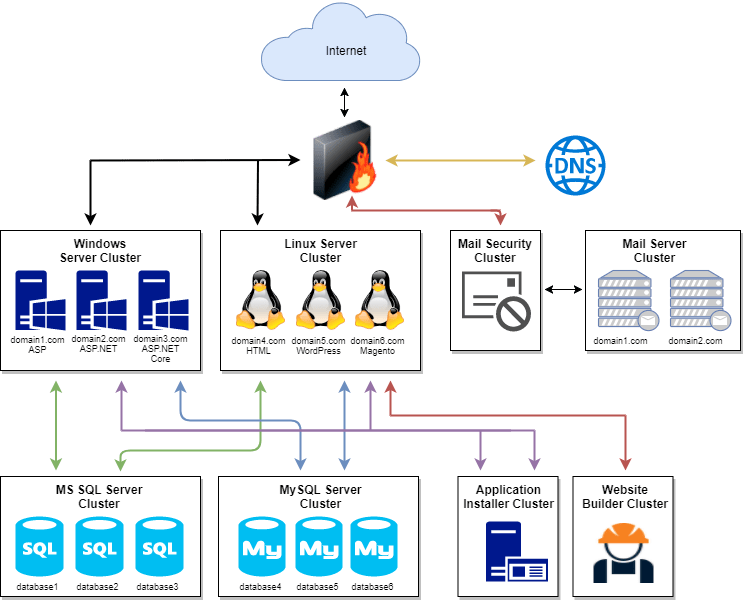 What is Cloud Balance Deployment?

Cloud Balance deployment places your web sites, e-mail, and databases on different servers within our cloud web hosting cluster. This is done behind the scenes using our simple cloud management interface. Maximizing account uptime by not provisioning your services/websites on a single server. Cloud balance deployment eliminates the single point of failure model of traditional web hosting. If you have any questions, please contact our sales department. We will be happy to answer any questions you may have.
How does cloud web hosting work?

Shared web hosting places your account services (mail, web, database, and DNS) on one server. Sectorlink's Cloud Web Hosting round robins your services within our cloud server cluster. With shared web hosting, any type of server interruption could cause your mail, web, database, and DNS to be down, leaving yourself or organization out of business. With Sectorlink's Cloud Web Hosting, this single point of failure is eliminated.
Website Isolation

With traditional web hosting, all of your sites reside in the same space provided to you. Not only in the same space but on the same server. What does this mean? If one website has a security issue, it has the potential to affect all of your websites. All of your sites within the cloud (including subdomains) are isolated from one another, keeping other sites safe and sound.


Have any questions?
Let one of our in house associates help you choose the right plan to fit your needs.

Chat Live! Get in touch