Drupal Cloud Hosting
The best automated Drupal installer with the power of the cloud
Drupal hosting with cloud technology!
Let us be your Drupal cloud technology partner. What is Drupal?
Drupal is a publishing platform created for building dynamic web sites offering a broad range of features and services. Drupal can support a diverse range of web projects ranging from personal weblogs to large community-driven and corporate sites. Use as-is or snap in any of thousands of free designs and plug-ins for rapid site assembly. Developers love our well-documented APIs. Designers love our flexibility. Site administrators love our limitless scalability.

Features:
Organize and Find: Drupal comes with many tools to help you organize, structure, find and re-use your content. Categorize with taxonomy, automatically create friendly path urls, create custom lists, associate content with other content on your site, and create smart defaults for content creators.
Creative Content: Drupal's flexibility handles countless content types including video, text, blog, podcasts, and polls with robust user management, menu handling, real-time statistics and optional revision control.
Administer: Drupal comes with great options for new user accounts and user permissions. Users can be assigned one or more roles, and each role can be set up with fine-grained permissions allowing users view and create only what the administrator permits.
Collaborate: Drupal's focus on social publishing can help you create sites and applications to help your users express their opinions and engage with one another. You can have tight control over who can create, view, administer, publish and otherwise interact with content on your site.
Design and Display: Drupal's presentation layer allows designers to create highly usable, interactive experiences that engage users and increase traffic. Use an existing Drupal theme for your site or try designing your own.
Extend: With more than 6000 available modules, the vast majority of your site's requirements can be addressed with Drupal core and available add-on modules.
Connect: Drupal makes it easy to connect your website to other sites and services across the web, using aggregation, feeds, and search engine connection capabilities. Social networking integration is also widely supported to help you engage with a wider audience.
The Cloud Balance Deployment Advantage.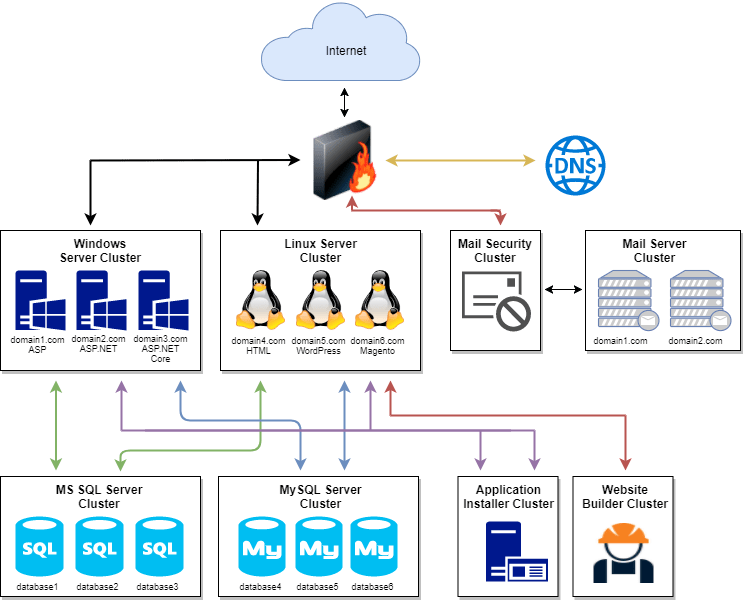 What is Cloud Balance Deployment?

Cloud Balance deployment places your web sites, e-mail, and databases on different servers within our cloud web hosting cluster. This is done behind the scenes using our simple cloud management interface. Maximizing account uptime by not provisioning your services/websites on a single server. Cloud balance deployment eliminates the single point of failure model of traditional web hosting. If you have any questions, please contact our sales department. We will be happy to answer any questions you may have.
How does cloud web hosting work?

Shared web hosting places your account services (mail, web, database, and DNS) on one server. Sectorlink's Cloud Web Hosting round robins your services within our cloud server cluster. With shared web hosting, any type of server interruption could cause your mail, web, database, and DNS to be down, leaving yourself or organization out of business. With Sectorlink's Cloud Web Hosting, this single point of failure is eliminated.
Website Isolation

With traditional web hosting, all of your sites reside in the same space provided to you. Not only in the same space but on the same server. What does this mean? If one website has a security issue, it has the potential to affect all of your websites. All of your sites within the cloud (including subdomains) are isolated from one another, keeping other sites safe and sound.


Have any questions?
Let one of our in house associates help you choose the right plan to fit your needs.

Chat Live! Get in touch