Composr CMS Cloud Hosting
The best automated Composr CMS installer with the power of the cloud
Composr CMS hosting with cloud technology!
Let us be your Composr CMS cloud technology partner. What is Composr CMS?
ocPortal is a content management application with many Web 2.0 and community features for building modern, sophisticated websites. ocPortal supports many types of content, including but not limited to galleries, news, newsletters, and it enables rich media and advertising to be integrated. Community features include forums, member blogs, chat rooms, WIKI, and content commenting/rating. ocPortal lets you decide how your site will look and behave. Features are plentiful, but also optional. Feature integration is at the core of the ocPortal philosophy - for example, the site-wide search engine, and the unified member profiles. Out-of-the-box your site will meet the highest accessibility and professional standards, and will appear higher in Google due to automatic SEO. Your website will automatically block and record hacking attempts, and you can control access in different ways such as via paid subscription. ocPortal is designed as the software that'll handle all your needs; you'll get much more than just a Content Management System.
The Cloud Balance Deployment Advantage.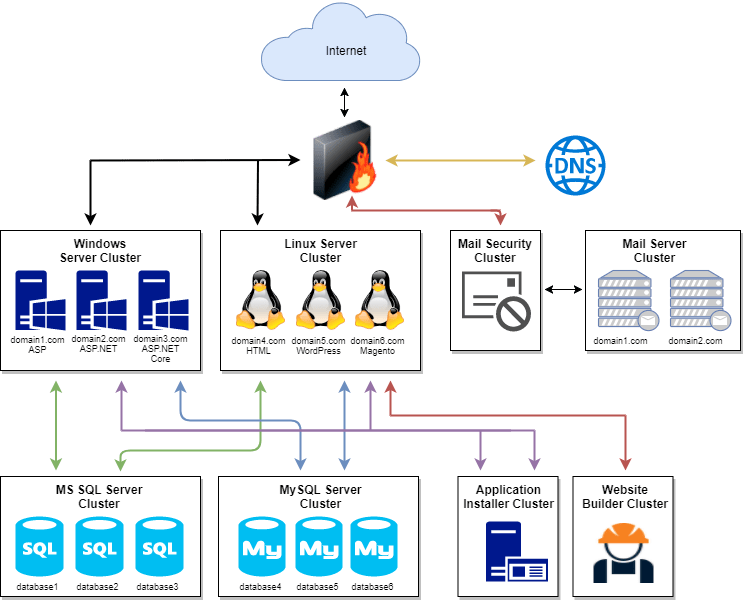 What is Cloud Balance Deployment?

Cloud Balance deployment places your web sites, e-mail, and databases on different servers within our cloud web hosting cluster. This is done behind the scenes using our simple cloud management interface. Maximizing account uptime by not provisioning your services/websites on a single server. Cloud balance deployment eliminates the single point of failure model of traditional web hosting. If you have any questions, please contact our sales department. We will be happy to answer any questions you may have.
How does cloud web hosting work?

Shared web hosting places your account services (mail, web, database, and DNS) on one server. Sectorlink's Cloud Web Hosting round robins your services within our cloud server cluster. With shared web hosting, any type of server interruption could cause your mail, web, database, and DNS to be down, leaving yourself or organization out of business. With Sectorlink's Cloud Web Hosting, this single point of failure is eliminated.
Website Isolation

With traditional web hosting, all of your sites reside in the same space provided to you. Not only in the same space but on the same server. What does this mean? If one website has a security issue, it has the potential to affect all of your websites. All of your sites within the cloud (including subdomains) are isolated from one another, keeping other sites safe and sound.


Have any questions?
Let one of our in house associates help you choose the right plan to fit your needs.

Chat Live! Get in touch