FluxBB Cloud Hosting
The best automated FluxBB installer with the power of the cloud
FluxBB hosting with cloud technology!
Let us be your FluxBB cloud technology partner. What is FluxBB?
FluxBB is designed as a lighter, faster alternative to some of the traditional feature heavy forum applications. It is easy to use and has a proven track record of stability and security making it an ideal choice of forum for your website.

Features:
Easy to use: Simplicity is the key. Featuring a beautiful, clean interface, FluxBB is focused completely on ease-of-use and usability.
Blazing speed: FluxBB focuses on the most essential features a forum needs and comes without the bloat many other systems bring along, so that you can enjoy the speed.
Clean admin interface: Take full control over your forum, easily editing permissions, changing board-wide options and rearranging the structure of your forum.
Flexible permission system: FluxBB comes with a flexible permission system designed to give you full control over your user groups. Allow them to view different sections of your forum, give privileged users moderator status (multiple moderator groups are supported).
Powerful moderator tools: Administer your board with ease using powerful moderator tools to manage users, banning, censoring, reported posts, forums and topics. Do it yourself or delegate these tasks to moderators as you see fit.
The Cloud Balance Deployment Advantage.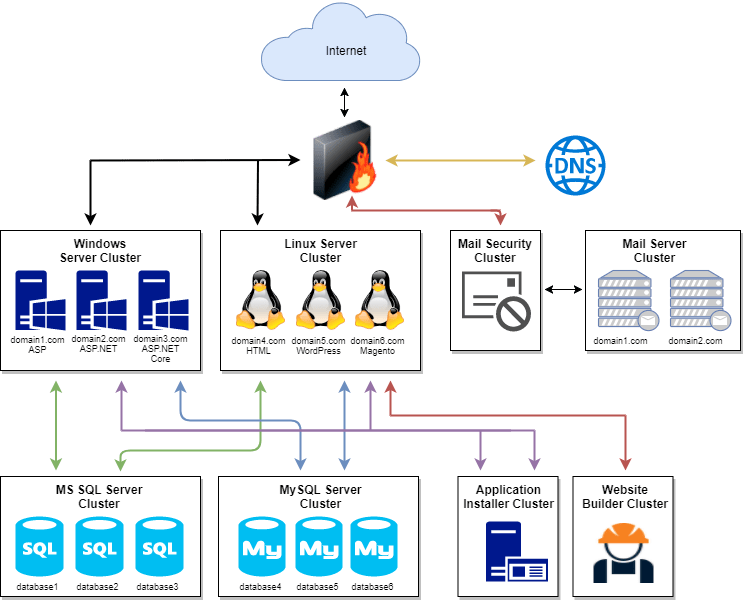 What is Cloud Balance Deployment?

Cloud Balance deployment places your web sites, e-mail, and databases on different servers within our cloud web hosting cluster. This is done behind the scenes using our simple cloud management interface. Maximizing account uptime by not provisioning your services/websites on a single server. Cloud balance deployment eliminates the single point of failure model of traditional web hosting. If you have any questions, please contact our sales department. We will be happy to answer any questions you may have.
How does cloud web hosting work?

Shared web hosting places your account services (mail, web, database, and DNS) on one server. Sectorlink's Cloud Web Hosting round robins your services within our cloud server cluster. With shared web hosting, any type of server interruption could cause your mail, web, database, and DNS to be down, leaving yourself or organization out of business. With Sectorlink's Cloud Web Hosting, this single point of failure is eliminated.
Website Isolation

With traditional web hosting, all of your sites reside in the same space provided to you. Not only in the same space but on the same server. What does this mean? If one website has a security issue, it has the potential to affect all of your websites. All of your sites within the cloud (including subdomains) are isolated from one another, keeping other sites safe and sound.


Have any questions?
Let one of our in house associates help you choose the right plan to fit your needs.

Chat Live! Get in touch