phpBB Cloud Hosting
The best automated phpBB installer with the power of the cloud
phpBB hosting with cloud technology!
Let us be your phpBB cloud technology partner. What is phpBB?
phpBB is a high powered, fully scalable, and highly customisable open-source bulletin board package. Whether you want to stay in touch with a small group of friends or are looking to set up a large multi-category board for a corporate website, phpBB has the features you need built-in.

Newer users will appreciate phpBB's extensive administration panel, which allows the customisation of even the most intricate features without having to edit code directly while advanced users will value the ease with which phpBB can be integrated into existing systems.

Features:
Enables community discussion through an intuitive interface.
Multiple discussion forums and categories are supported for maximum flexibility.
Anti-spam tools keep every board free of unwanted users and spam.
Share files by uploading and attaching them to posts.
Moderators can help to maintain order by assisting users and enforcing the rules.
Private messages are direct messages between two or more users.
An advanced caching system is utilized to increases board performance.
Straightforward administration settings enable full control over the look, feel, and operation of every board.
User groups enable users to easily be organized, and then the administrator can fine tune where users can go and which features they can use.
The powerful search system enables users find topics, posts, and users.
A powerful plugin system can be used to extend phpBB's functionality.
The Cloud Balance Deployment Advantage.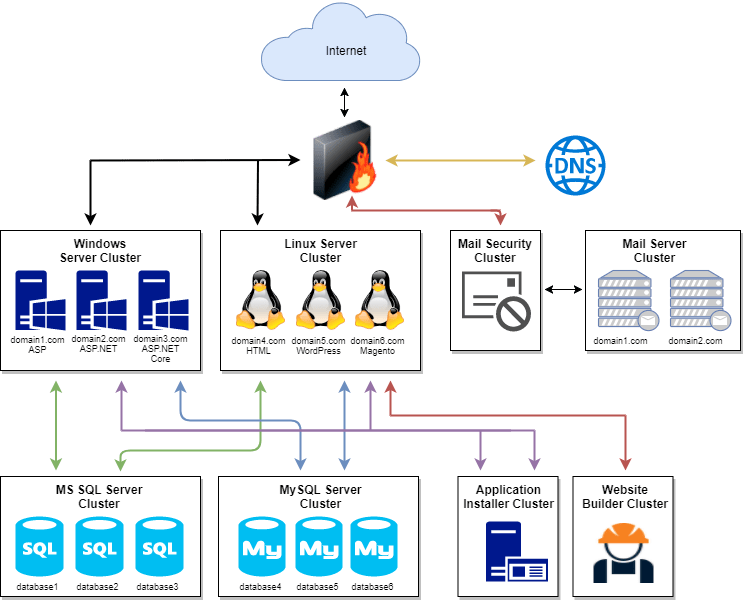 What is Cloud Balance Deployment?

Cloud Balance deployment places your web sites, e-mail, and databases on different servers within our cloud web hosting cluster. This is done behind the scenes using our simple cloud management interface. Maximizing account uptime by not provisioning your services/websites on a single server. Cloud balance deployment eliminates the single point of failure model of traditional web hosting. If you have any questions, please contact our sales department. We will be happy to answer any questions you may have.
How does cloud web hosting work?

Shared web hosting places your account services (mail, web, database, and DNS) on one server. Sectorlink's Cloud Web Hosting round robins your services within our cloud server cluster. With shared web hosting, any type of server interruption could cause your mail, web, database, and DNS to be down, leaving yourself or organization out of business. With Sectorlink's Cloud Web Hosting, this single point of failure is eliminated.
Website Isolation

With traditional web hosting, all of your sites reside in the same space provided to you. Not only in the same space but on the same server. What does this mean? If one website has a security issue, it has the potential to affect all of your websites. All of your sites within the cloud (including subdomains) are isolated from one another, keeping other sites safe and sound.


Have any questions?
Let one of our in house associates help you choose the right plan to fit your needs.

Chat Live! Get in touch