OpenDocMan Cloud Hosting
The best automated OpenDocMan installer with the power of the cloud
OpenDocMan hosting with cloud technology!
Let us be your OpenDocMan cloud technology partner. What is OpenDocMan?
OpenDocMan is a free, open source web-based PHP document management system (DMS) designed to comply with ISO 17025 and OIE standard for document management. Document management software and document management in general is based around a concept of centralized document storage, limiting access, and change tracking. These three DMS software fundamentals make up much of ISO 17025 in regards to document management systems.

OpenDocMan features web based access, fine grained control of access to files, and automated install and upgrades. Unlike most DMS's that require you to change your business rules in order to manage your documents, OpenDocMan allows you to integrate your current rules. Through supporting multiple file types, to departmental review, OpenDocMan lets you concentrate on the business at hand, document management. IT staff and managers can delegate document management duties to any number of staff members, through user and group permissions. Permissions can be set as restrictively or permissively as needed.

Documents
Add any file type to the system
No FTP required. Upload directly from your browser.
Meta data fields for each file
Assign a department/category to each file
Check-out feature to prevent over-writing of edits
Revision history
Documents are stored physically on the server
File expiration
Create custom document properties to match your companies needs
Workflow
Automated document review process
Automated file expiration process
Reviewer can approve or reject a new document or a changed document
E-mail notification options prior to and after a review
Search
Quick-browse search by author, department, or category
Full search by meta-data, author, department, category, file name, comments,etc.
No external indexing processes required
Security
Secure URL feature to obfuscate URL parameters
Fine grained user access control for each file
Departmental access control for each file
Three user types: User, Admin, and Super-Admin
Control the size limit of files independent of higher server limits
The Cloud Balance Deployment Advantage.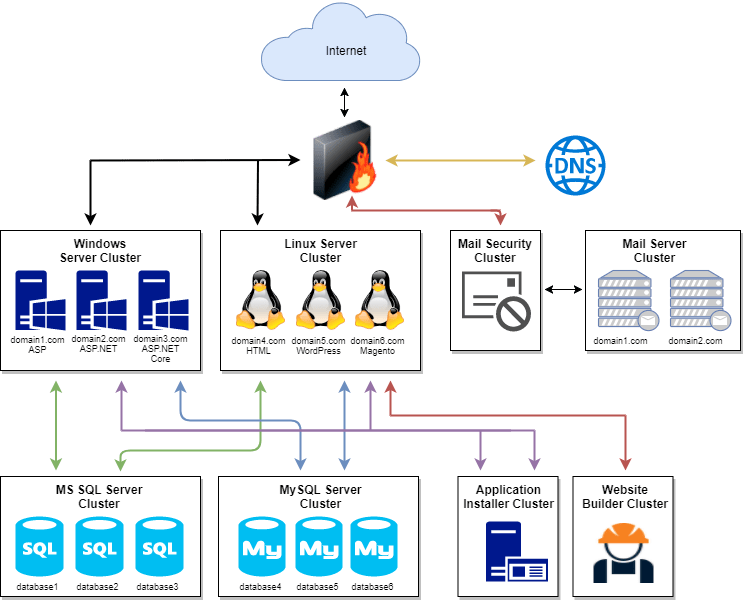 What is Cloud Balance Deployment?

Cloud Balance deployment places your web sites, e-mail, and databases on different servers within our cloud web hosting cluster. This is done behind the scenes using our simple cloud management interface. Maximizing account uptime by not provisioning your services/websites on a single server. Cloud balance deployment eliminates the single point of failure model of traditional web hosting. If you have any questions, please contact our sales department. We will be happy to answer any questions you may have.
How does cloud web hosting work?

Shared web hosting places your account services (mail, web, database, and DNS) on one server. Sectorlink's Cloud Web Hosting round robins your services within our cloud server cluster. With shared web hosting, any type of server interruption could cause your mail, web, database, and DNS to be down, leaving yourself or organization out of business. With Sectorlink's Cloud Web Hosting, this single point of failure is eliminated.
Website Isolation

With traditional web hosting, all of your sites reside in the same space provided to you. Not only in the same space but on the same server. What does this mean? If one website has a security issue, it has the potential to affect all of your websites. All of your sites within the cloud (including subdomains) are isolated from one another, keeping other sites safe and sound.


Have any questions?
Let one of our in house associates help you choose the right plan to fit your needs.

Chat Live! Get in touch