Pydio Cloud Hosting
The best automated Pydio installer with the power of the cloud
Pydio hosting with cloud technology!
Let us be your Pydio cloud technology partner. What is Pydio?
Pydio is a mature open source software solution for file sharing and synchronization. With intuitive user interfaces (web / mobile / desktop), Pydio provides enterprise-grade features to gain back control and privacy of your data: user directory connectors, legacy filesystems drivers, comprehensive admin interface, and much more.

Simple, Sleek, Beautiful
Access your docs from anywhere, from any browser.
Most common formats previews (audio, video, PDF, Office Documents)
Native mobile applications for iOS and Android - WebDAV server embedded
Lucene indexation for quick search
The ultimate sharing machine
Share files or folders as weblinks with outside world
Secure links with a password, an expiration date or a limited number of downloads
Share folders as workspaces with application users.
Get notified when a file or folder is consulted or modified
Choose layout for minisites and customize public links
An admin's heaven
Pydio is regularly audited by security experts, and if a vulnerability is found, it will be immediately patched.
Pydio users & groups can be mapped directly from an LDAP/AD, or from the most common PHP-based CMS.
Modularity is in the heart of the application: access existing data sources (FileSystem, (s)FTP, S3, etc), develop your own plugins
Monitor users activities in real-time
The Cloud Balance Deployment Advantage.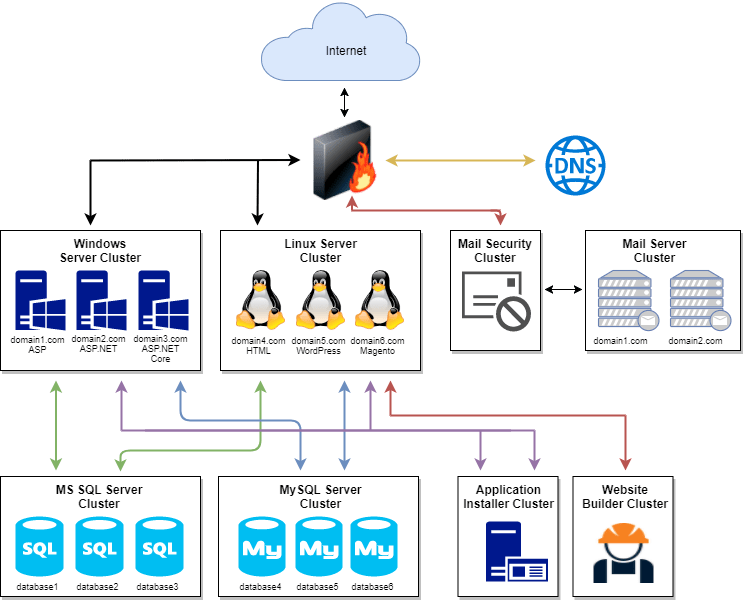 What is Cloud Balance Deployment?

Cloud Balance deployment places your web sites, e-mail, and databases on different servers within our cloud web hosting cluster. This is done behind the scenes using our simple cloud management interface. Maximizing account uptime by not provisioning your services/websites on a single server. Cloud balance deployment eliminates the single point of failure model of traditional web hosting. If you have any questions, please contact our sales department. We will be happy to answer any questions you may have.
How does cloud web hosting work?

Shared web hosting places your account services (mail, web, database, and DNS) on one server. Sectorlink's Cloud Web Hosting round robins your services within our cloud server cluster. With shared web hosting, any type of server interruption could cause your mail, web, database, and DNS to be down, leaving yourself or organization out of business. With Sectorlink's Cloud Web Hosting, this single point of failure is eliminated.
Website Isolation

With traditional web hosting, all of your sites reside in the same space provided to you. Not only in the same space but on the same server. What does this mean? If one website has a security issue, it has the potential to affect all of your websites. All of your sites within the cloud (including subdomains) are isolated from one another, keeping other sites safe and sound.


Have any questions?
Let one of our in house associates help you choose the right plan to fit your needs.

Chat Live! Get in touch