liveSite Cloud Hosting
The best automated liveSite installer with the power of the cloud
liveSite hosting with cloud technology!
Let us be your liveSite cloud technology partner. What is liveSite?
liveSite is a back-end website engine that can drive any front-end website design.

Features:
User Management: Add unlimited member and client portals, and delegate every aspect of site design, site content, and site management to your staff using amazingly flexible access control.
Content Management: Integrated CMS features empower your staff to create, publish, and update website content easily. Site maps, tag clouds, full-text search, and SEO metadata are all updated in real-time.
Forms Management: Create custom web forms to gather information securely for any reason, including event registrations, custom product purchases, trial memberships, and even online quizzes.
Contact Management: liveSite tracks every user interaction and automatically updates contact information and mailing lists, so you can effortlessly send timed e-mail campaigns to any user or audience segment.
Membership Management: Create members-only areas within your website. Members can pay for access, sign up for a trial, or register using a security code you provide to access privileged content for a limited time.
Community & Social Media: Discussions can be enabled on any page so your users, members, staff, or any other group can communicate securely within their own private space to provide feedback or build consensus.
Calendaring & Scheduling: Create public calendars for visitors, or protected calendars for any group of users so they can quickly find event information, reserve a seat, or purchase a ticket.
Commerce & Payments: liveSite can process payments for almost any type of product, service, event, fee, or donation. And liveSite doesn't add any transaction fees on top of your own payment gateway.
Custom Workflow & Apps: Collect any type of data and display through secure and personalized views. Sync with user data, update custom databases, and trigger autoresponders and future e-mail campaigns.
The Cloud Balance Deployment Advantage.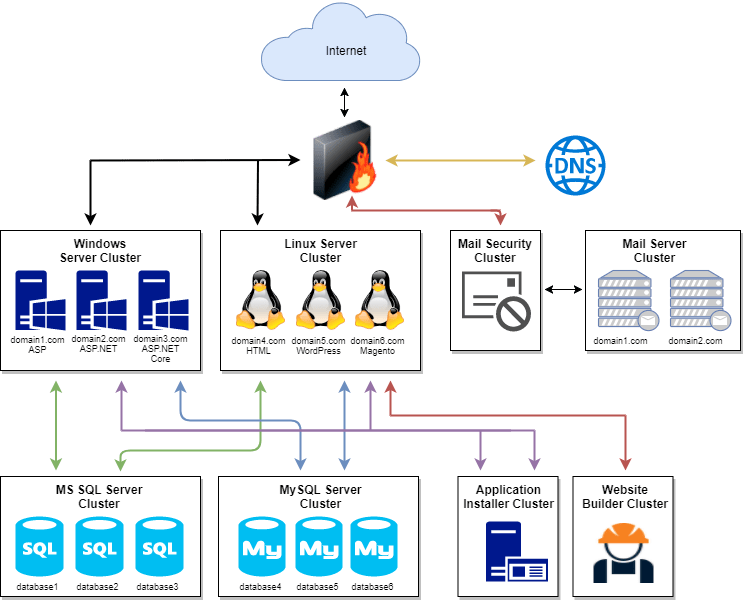 What is Cloud Balance Deployment?

Cloud Balance deployment places your web sites, e-mail, and databases on different servers within our cloud web hosting cluster. This is done behind the scenes using our simple cloud management interface. Maximizing account uptime by not provisioning your services/websites on a single server. Cloud balance deployment eliminates the single point of failure model of traditional web hosting. If you have any questions, please contact our sales department. We will be happy to answer any questions you may have.
How does cloud web hosting work?

Shared web hosting places your account services (mail, web, database, and DNS) on one server. Sectorlink's Cloud Web Hosting round robins your services within our cloud server cluster. With shared web hosting, any type of server interruption could cause your mail, web, database, and DNS to be down, leaving yourself or organization out of business. With Sectorlink's Cloud Web Hosting, this single point of failure is eliminated.
Website Isolation

With traditional web hosting, all of your sites reside in the same space provided to you. Not only in the same space but on the same server. What does this mean? If one website has a security issue, it has the potential to affect all of your websites. All of your sites within the cloud (including subdomains) are isolated from one another, keeping other sites safe and sound.


Have any questions?
Let one of our in house associates help you choose the right plan to fit your needs.

Chat Live! Get in touch