Omeka Cloud Hosting
The best automated Omeka installer with the power of the cloud
Omeka hosting with cloud technology!
Let us be your Omeka cloud technology partner. What is Omeka?
Omeka is a free, flexible, and open source web-publishing platform for the display of library, museum, archives, and scholarly collections and exhibitions. Omeka is a Swahili word meaning to display or lay out wares; to speak out; to spread out; to unpack. Omeka falls at a crossroads of Web Content Management, Collections Management, and Archival Digital Collections Systems.

Omeka is designed with non-IT specialists in mind, allowing users to focus on content and interpretation rather than programming. It brings Web 2.0 technologies and approaches to academic and cultural websites to foster user interaction and participation. It makes top-shelf design easy with a simple and flexible templating system. Its robust open-source developer and user communities underwrite Omeka's stability and sustainability.

Until now, scholars and cultural heritage professionals looking to publish collections-based research and online exhibitions required either extensive technical skills or considerable funding for outside vendors. By making standards based, serious online publishing easy, Omeka puts the power and reach of the web in the hands of academics and cultural professionals themselves.

Easy to use:
Omeka is designed with non-IT specialists in mind, allowing users to focus on content and interpretation rather than programming.
Omeka is a web application, making it accessible from any computer or mobile device with an internet connection.
Users say Omeka is "simple," "logical," and "unscary."
Strong community of documentation and support:
Learn to use Omeka with step-by-step tutorials and screencasts available in the documentation.
Connect with other Omeka users and the Omeka team through end user forums and developer discussion lists.
Extensible, scalable, and flexible:
Omeka can handle large archives of meta data and files (with over 100,000 items).
The only limitations are on your own server. Element sets for institution-specific meta data maybe added.
Zend framework for PHP allows for customization.
Omeka accepts and stores all types of files, including images, video, audio, multi-page documents and PDFs, Power Point presentations, et al. Individual items may contain multiple files.
The Cloud Balance Deployment Advantage.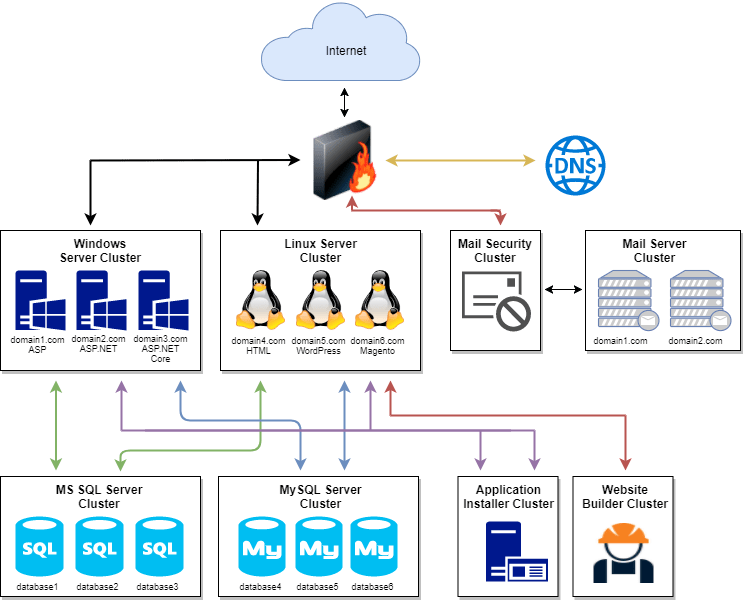 What is Cloud Balance Deployment?

Cloud Balance deployment places your web sites, e-mail, and databases on different servers within our cloud web hosting cluster. This is done behind the scenes using our simple cloud management interface. Maximizing account uptime by not provisioning your services/websites on a single server. Cloud balance deployment eliminates the single point of failure model of traditional web hosting. If you have any questions, please contact our sales department. We will be happy to answer any questions you may have.
How does cloud web hosting work?

Shared web hosting places your account services (mail, web, database, and DNS) on one server. Sectorlink's Cloud Web Hosting round robins your services within our cloud server cluster. With shared web hosting, any type of server interruption could cause your mail, web, database, and DNS to be down, leaving yourself or organization out of business. With Sectorlink's Cloud Web Hosting, this single point of failure is eliminated.
Website Isolation

With traditional web hosting, all of your sites reside in the same space provided to you. Not only in the same space but on the same server. What does this mean? If one website has a security issue, it has the potential to affect all of your websites. All of your sites within the cloud (including subdomains) are isolated from one another, keeping other sites safe and sound.


Have any questions?
Let one of our in house associates help you choose the right plan to fit your needs.

Chat Live! Get in touch