Plesk was created by Plesk, Inc., a Russian company, and went publicly live in 2001. Plesk sold to SWSoft in 2003, which then changed its name to Parallels in 2008. In 2015 it became its own entity after being acquired by Oakley Capital. Plesk is a commercial web hosting data center automation software, developed for Linux/Unix and Windows-based commercial hosting service providers.
Plesk is a great control panel system for VPS and dedicated servers because its menu is end user-friendly. In other words, a server utilizing Plesk is so easy to use that anyone with little to no experience can start administering their server immediately. The administrator can create client and site templates, which essentially is allocating resources for domains and/or clients. Also, Plesk is designed to simplify the daily routine management and administration of websites. Plesk automates various tasks and processes on a single or multiple servers. Plesk is a web hosting platform with a control panel that allows the administrator to set up websites, reseller accounts, e-mail accounts, DNS, and databases through a web browser).
Plesk integrated support for Content Management Systems (CMS), which includes but is not limited to, WordPress, Joomla, and Drupal. It also has incorporated other software such as Docker, multi-server management, and framework environments for Node.js, PHP, Python, Ruby on rails, and much more. Plesk supports multiple Linux/Unix environments as well as Microsoft Windows. Plesk also supports MySQL, PostgreSQL, MSSQL Server, and MSSQL Desktop Engine, Apache Tomcat Java platform server and ColdFusion server.
Plesk's extensions (add-ons) include software packs that are not part of the main codebase. These extensions fully interact and integrate with Plesk. Moreover, you do not need to pay for extensions you do not need as Plesk designed its interface only to add what you use. Some examples are:
| | |
| --- | --- |
| Docker Support | Git Support |
| Plesk Security Advisor | Multi-Server Extension |
| WordPress Toolkit | Joomla! Toolkit |
| SEO Toolkit | Developer Pack |
| Hosting Pack | Business & Collaboration Pack |
| WordPress Pack | Kaspersky Antivirus |
| KernelCare | Sucuri Malware Scanner |
| Uptime Robot | Speed Kit |
| Acronis Backup | Servershield by Cloudflare |
Access
To log into your Plesk server, in a browser, you would use https://ipaddress:8443 or https://hostname.com/8443. The default user name is admin and a password preassigned (but this may have been changed if Plesk was pre-installed by a third party). If on Linux, the default user name can be root and on Windows, it can be administrator. This can be disabled by adding the following to the panel.ini:
[login]
systemAdmin = false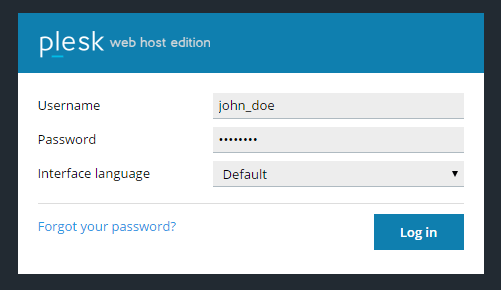 Once you have logged in, you will see the first main page along with the menu bar on the left side. You will be able to manage your server under the Server Management section. Under the Hosting Services section, you will administer your domains, customers, resellers create/modify subscriptions and service plans. The My Profile section in the menu allows you to change your Plesk administrative password and view/edit your Profile and Preferences. (i.e., contact, email, company name, phone number, address).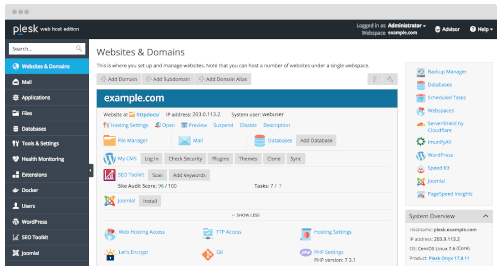 Conclusion
End users with any level of experience can manage their VPS or Dedicated server easily with Plesk because of the user-friendly interface and the large number of extensions for Plesk. Plesk will save time and money as it makes the daily tasks of managing a server easy. The automation with Plesk will cut time in website, email, and database management. All extensions are "1-click" installs. This means all extension installs are automated, which simplifies each install so that any end-user will feel like a pro when creating and setting up their website. Best of all, you do not need to pay for extensions you do not need as Plesk designed its interface only to add what you use.
If you would like to discuss this matter further, feel free to contact us.